About

This website has been set-up by
Esther Johnson
and
Leigh Bird
through a shared exuberance for the Alan Boyson
Three Ships
and
Fish
murals on the former Co-operative/BHS building in Hull City Centre.
The site acts as:
· a research blog for the
Ships in the Sky
film and exhibition project
· an information store for all things
Three Ships
· a means of contacting Esther & Untold Hull so that you can share your memories and memorabilia.
Find out more on the Contact Page.
---
"Growing up in Hull, seeing this unable to miss piece of pubic art was formative in my wanting to study art. My Dad comes from a long line of trawler-men and seafaring folk, and whilst sitting with him opposite the mural on Saturday lunchtimes (eating fired egg sandwiches from the local deli Fletchers), he would translate the Latin resper industriam prosperae "success through industry" and tell me tales of his first trawler trip at the age of 12 to Murmansk and beyond the Arctic Circle. Aside from an avid fondness for Boyson's graphic modernist aesthetic, I associate the mural with stories of fantastical travels to far off lands, voyages that all began in Hull. The Three Ships has almost become a metaphor for where life might lead me; its destruction would break my heart."

— Esther Johnson is an artist and filmmaker from Hull who works with moving image, audio and photography.

Esther Johnson (artist / filmmaker) "As a child I was spellbound by the mural's size and thought it beautiful in a way I didn't [yet] understand. I vividly remember sitting with my dad on the fountain opposite, when he traced the word 'HULL' in the masts with his finger. The fountain and my dad are gone now, but the mural is like beacon or lodestone rising up in the city. If anything, I am even more captivated by it and hold the mural gloriously accountable for my love of modernism. For it not to be there is just unthinkable."

— Leigh Bird is a marketing and social media consultant from Hull, with a passion for art and architecture.

Leigh Bird (@BHSMuralHull Twitter mistress)

---

---
---
Powered by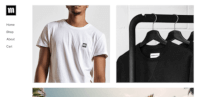 Create your own unique website with customizable templates.